During our pilot programme, the brands also attended the World Economic Forum Annual Meeting of New Champions, where they met successful China-based entrepreneurs and international renowned businesses, as well as leaders in innovation, technology and science. Here, they received valuable advice on how to "scale up" to the next level and be ready for a globalized market.
In Dalian, the main aim for the delegation was to make the most of the WEF's Annual Meeting of New Champions, the foremost global summit on innovation, science and technology, promoting entrepreneurship in the global public interest. The Meeting, which featured a keynote speech from Chinese Premier Li Keqiang, presented opportunities for networking with business and other leaders and entrepreneurs from all around the world. As entrepreneurs with global mindsets and commitments to the sustainable growth in their local communities, Africa Reimagined delegates were invited to attend the specialized "Start-Ups" programme – an exclusive practical leadership programme for CEOs of leading companies less than 10 years old, along with many other seasoned and emerging leaders in policy-making, technology, and business. At a special session on June 30th, our delegates met with Prof Klaus Schwab, founder and Chairman of WEF, and received valuable advice from other successful businesses on how to "scale up" their businesses and techniques for expanding into various globalized markets.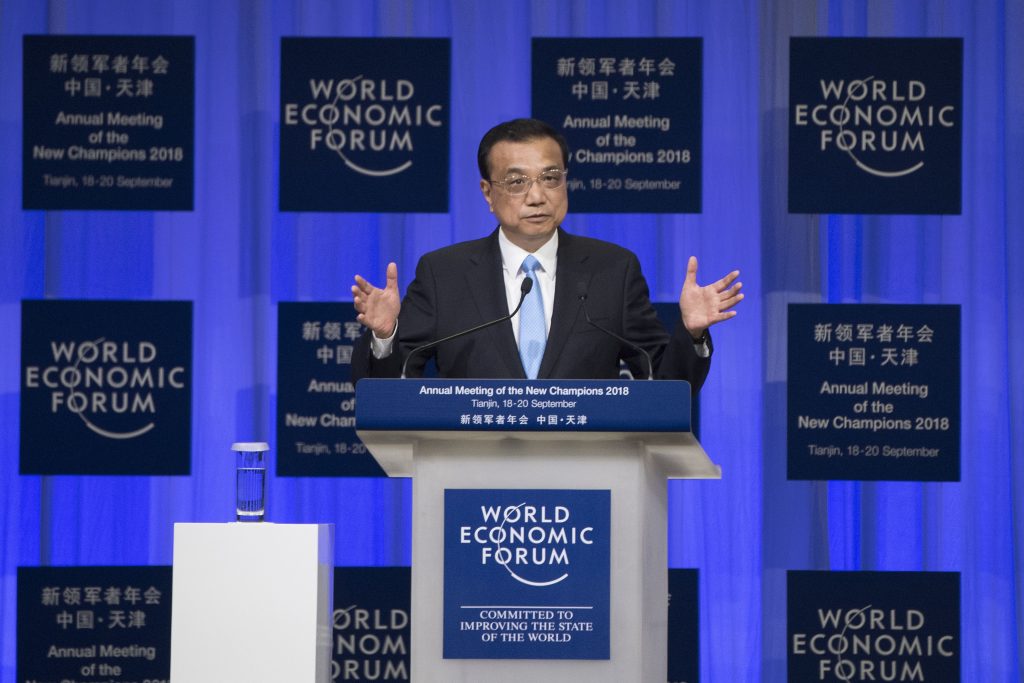 The main conference from 1-3rd July had four main tracks, including Fostering Agile Industry Leadership, Achieving Technology Leadership, Sustaining Economic Leadership, and Promoting Responsible Leadership. The delegates attended sessions most relevant to their businesses, including:
Future of the China-Africa relationship;
Options for sustainable mining;
How to reduce the environmental impact of packaging;
The future of trade;
Opportunities that blockchain presents;
New ideas for creating trust, enhancing team diversity and measuring impact/results.
The top industry leaders gave very positive feedback towards Africa Reimagined's vision and offered meaningful insights and proposed partnerships with AR and the other members of the delegation, especially regarding China market entry and how to attract venture capital (VC) funds. The delegation was invited to consider creating an expo-like space at WEF Africa, and several Young Global Leaders (YGLs) – a cohort of talented leaders under 40 from all around the world – offered to nominate the African CEOs just on this first meeting, demonstrating their credibility and vision.
At WEF, a $1-billion Belt and Road Africa Fund was also announced to strengthen the cooperation between business sectors in China and Africa. The fund will be headed by South African businessman and chairman of the Sekunjalo Group, Dr Iqbal Survé. With co-investments in infrastructure, technology, e- commerce, artificial intelligence (AI) and the beneficiation of the resource industry in Africa, it is envisioned to serve as a bridge between African and Chinese businesses. Our delegates had the opportunity to congratulate him on his shared vision for African growth and development, and he congratulated them on their work to change lives in African countries as well.
The WEF Annual Meeting was an incredible opportunity for Africa Reimagined and its partners. The brands got to meet and learn from top leaders in their industries, through several seminars, networking sessions, and presentations. This is just one example of what Africa Reimagined can provide its clients through our "Testing the Market" service. Keep an eye out for more blog posts regarding our pilot programme, including introductions to each of our partner brands! To learn more about Africa Reimagined, take a look through our "What we do" page.